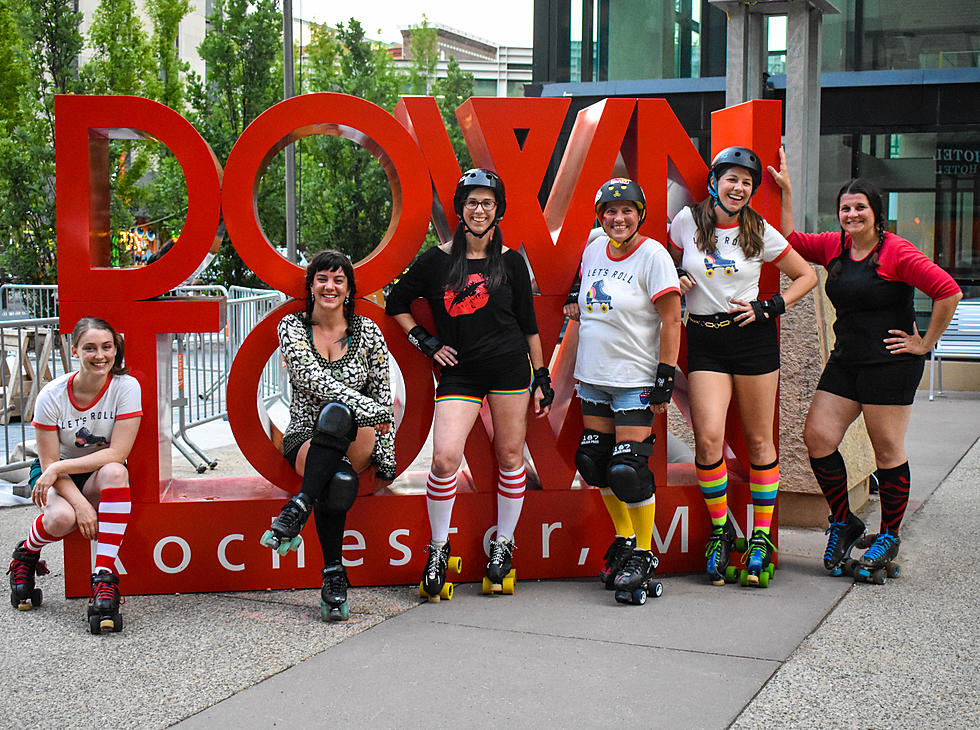 Here Is What You Need To Know About Downtown Rochester's Temporary Roller Rink
Photo From Rochester Downtown Alliance
This past July, the Rochester Downtown Alliance made an announcement that something new and exciting was headed to Downtown Rochester. A skating rink!
According to a news release from the RDA, the Peace Plaza will be transformed into a 22- foot by 28-foot roller rink on October 9th and 10th. Here is the full schedule of events.
Schedule Of Events For Inaugural Roller Disco Skating in Downtown Rochester
Schedule of Events October 9th
2 to 6 p.m: Teen Time

Open Skate
DJ Supafly proving tunes

6 to 10 p.m.: Evening Experience

Open Skate
DJ D.I.M.E Spinning Jams from 6:30 to 10 p.m.
Schedule of Events October 10th
10 a.m to 2 p.m Family Skate Time

Open Skate
DJ Laidee P Giving the musical vibes.
If you don't have any experience roller staking, don't worry! During the dedicated Roller Disco times, Med City Roller Derby skaters will be on hand to provide attendees with a quick refresher demonstration on basic skating techniques.
The event will also feature a 3-D photo booth, free skate rentals, a curated selection of vendors, and branded merchandise for sale!  Adding to the roller disco experience, the Peace Palaz will be decked out with a disco ball and party lighting, in addition to the outdoor roller ink.
In-Line Roller Skates Not Allowed
The RDA did say that in-line skates are not allowed. So if you don't have a pair of roller skates, you can rent them for free on-site!
So be sure to get out and enjoy the roller disco on October 9th and 10th in Downtown Rochester!
Five Minnesota Road Trips With The Most Breathtaking Views
The beautiful fall colors are starting to roll in across the state of Minnesota, and it might be time to take that wonderful road trip that you've always wanted to take! Here are five road trips you may want to take to get some remarkable views of our great state. Which one is first on your bucket list?
Five Minnesota Road Trips To Travel For Remarkable Views
Check out these five Minnesota road trips that will surely take your breath away
This Epic 16,000 Sq. Ft Mansion Is Now Iowa's Most Luxurious Airbnb
This incredible 16,000 square foot mansion located in Conrad, Iowa is now available for your, your family, and your friends to enjoy! While priced at just over $1,300 per night, it is a phenomenal place for you to pool your money with a bunch of others for your next getaway!
It includes 11 bedrooms, 24 beds, and 10.5 baths! It also includes an incredible gym, library, living room, theater room, and a gourmet kitchen. Check it out for yourself below!