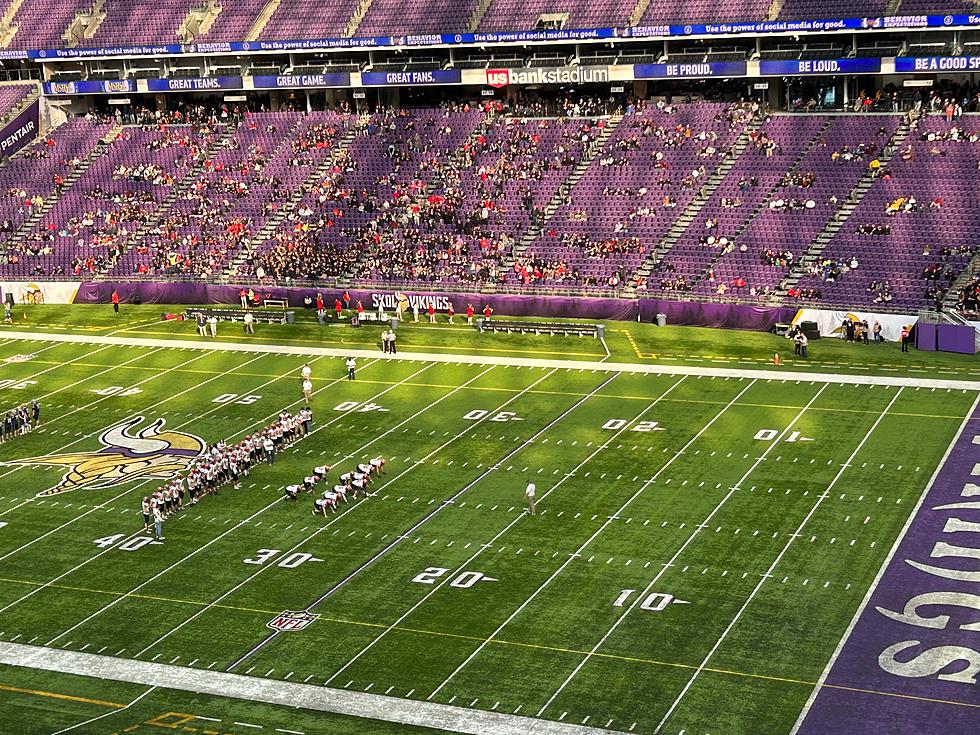 MSHSL Prep Bowl 41 Matchups are Set
Cannon Falls Prepares before Class AA Semifinal Game at US Bank Stadium Minneapolis. Photo by Gordy Kosfeld
Seven State Champions will be crowned in Minnesota high school football this Friday and Saturday following title games played at US Bank Stadium in downtown Minneapolis.  Here is some statistical information for most of the teams.
Some teams I could not find any statistics reported.
9-Playerr Championship
Kingsland Knights (Spring Valley/Wykoff)  13-0 vs. Nevis Tigers 12-0 at 10:00 a.m. on Saturday, November 25, 2023.
Kingsland averaging 47.8 points and allowing 16.8.  Nevis averages 43.6 and gives up 8 points per contest.
Knights have 3 kick return and a punt return touchdown this season.  They have rushed for 3,922 yards and passed for 1,811 yards with a time of possession averaging 28:15,  Kingsland has 35.5 sacks, 11 interceptions and 15 fumble recoveries
Tigers have recorded 4 shutouts.  No other statistics could be located
Class A Championship
Springfield Tigers 12-1 vs. Minneota Vikings 13-0 on Friday, November 24, 2023 at 10:00 a.m.
Vikings are attempting to win their 10th state title and repeat again.  They won 3 straight titles from 1986 through 1988 and back-to-back in 2014, 2015.  They average 51.1 points and allow 7.6 per game while throwing for 1,858 yards 26 touchdown and running for 4,139 and 68 scores.  They have 11 total punts this season.
Tigers average 39.4 points and give up 14.2 per game while average 145 yards a game on the ground and 249 through the air.  Only was was to Sleepy Eye 16-14 which they avenged in Section title game 36-18.  Springfield defeated Goodhue in Class C title game in 2005 21-16.
Class AA Championship
Eden Valley-Watkins Eagles 12-0 vs. Barnesville Trojans 13-0 Friday November 24, 2023 at 1:00 p.m.
Barnesville averages 45.6 and allows 8.8 points a game with 6 shutouts to their defensive credit.  The Trojans defeated Chatfield 35-20 for the title last year. Barnesville was runner-up to New Ulm Cathedral in 2010 (19-13).
Eden Valley Watkins showed off their speed against Cannon Falls last Friday winning 42-24.  Bombers had 28 first down, EVW 12.  Cannon Falls ran for 449 yards while Eagles flew for 195 on ground and 179 through the air. EVW had scores of 66, 55, 51, 28, 32, 22 in the game.  Watch out for the jet sweep .  Eagles had the ball 13:08 vs Cannon Falls 34.52.  The team that scores the most points wins.
Class AAA Championship
Stewartville Tigers 13-0 vs. Annandale Cardinals 12-0 at 1:00 p.m. Saturday, November 25, 2023.
Stewartville has averaged 41.5 while allowing 4.8 points per game with 6 shutouts to their credit.  Tigers have 2,277 yards rushing with 32 touchdowns and 2,156 yards passing and 39 touchdowns.  Quarterback Ayden Helder has completed 71.4 percent of his passes with 1 interception.
Annandale has scored 33.5 points per game while allowing 10.1 with 2 shutouts. In semifinal win they ran for 216 yards and threw for 185.  So both teams appear to be balanced.
Class AAAA Championship
Rocori Spartans 10-2 vs. Hutchinson 10-2 on Friday, November 24, 2023 at 4:00 p.m.
Rocori of Cold Spring is averaging 20.3 while allowing 12.5 points per game with 5 shutouts including a 7-0 win over Byron in the semis.  Spartans have rushed for 2,088 yards, 23 touchdowns and passed for 1,337 yards with 8 scores.
Hutchinson is in their 9th Prep Bowl averaging 36.1 points this season and giving up 11.6.  Tigers have run for 3,315 yards with 47 touchdowns and passed for 970 yards with 12 scores. The Tigers lost in last year's title game to Simley 34-24.  They have 6 state titles.
Class AAAAA Championship
St. Thomas Academy Cadets 10-2 vs Chanhassen Storm 12-0 on Saturday, November 25, 2023 at 4:00 p.m.
Chanhassen averages 36.9 points while giving up 20.1 per contest.  Storm have amassed 2,397 yards on the ground with 35 touchdowns and 1,632 passing yards with 17 scores. They have 21 sacks and 6 interceptions on defense.
St. Thomas Academy averages 38.7, yields 21.2 per game. The Cadets have run for 3,311 yards and 48 scores and thrown for 1,603 with 18 touchdowns.  The defense has recorded 19 sacks, 12 interceptions.
Class AAAAAA Championship
Centennial Cougars 11-1 vs Edina Hornets 9-3 on Friday, November 24, 2023 at 7:00 p.m..
Centennial averages 32 while giving up 12.7 points per game this season. Cougars have 25 sacks, 19 takeaways on defense while throwing just one pick while completing 62 percent of their passes.  Centennial has run for 3,216 yards and thrown for 1,868.
Edina knocked off top rated Eden Prairie 28-7 to avenge a loss to them in week two.  The score then was 36-14,  Other losses were to Minnetonka 34-10 and Wayzata 24-21.  The Hornets have apparently leaned from those losses to get on an incredible roll.  Particularly on defense.
Which Minnesota Stores Are Closed and Open on Thanksgiving 2023?
The big Thanksgiving day is almost here and retailers are giving us a heads up on their hours. Before you plan all of your Thanksgiving Day shopping, check to see if the Minnesota store has announced if they will be open or closed.
Gallery Credit: Jessica On The Radio