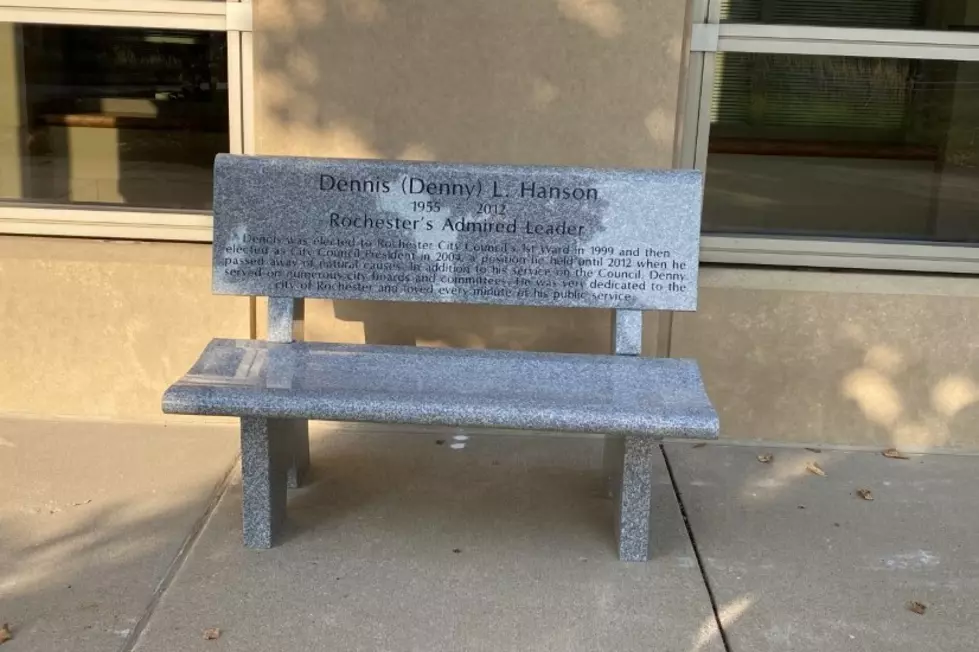 New Dennis Hanson Memorial Bench Installed at Rochester City Hall
photo courtesy Shaun Palmer
Rochester, MN (KROC-AM News) - A new amenity was added at Government Center in downtown Rochester on Tuesday.
A memorial bench honoring the late Dennis Hanson was installed outside the main entrance to City Hall. Hanson died on June 27, 2012, while he was serving in his second term and preparing to campaign for his third term as City Council President. He first joined the City Council, as a political newcomer, in 1999 when he was elected to represent the city's First Ward.
The engraved marble bench reads:
Dennis (Denny) L. Hanson, 1955-2012
Rochester's Admired Leader
Dennis was elected to Rochester City Council First Ward in 1999 and then elected as City Council President in 2004, a position he held until 2012 when passed away of natural causes. In addition to his service on the City Council, Denny served on numerous boards and commissions. He was very dedicated to the city of Rochester and loved every minute of his public service.
The bench replaces one that was installed in the Peace Plaza the year after his death. It was constructed of steel and featured photos of Hanson on a vinyl wrap that was damaged over the years. It was removed a few years ago as part of the reconstruction of the Peace Plaza.
The new memorial bench was paid for through private donations and fundraising for the project is ongoing. Fifth Ward City Councilmember Shawn Palmer is among those who were involved in getting the new bench made and installed. He is accepting donations to help cover the costs by check at Palmer, PO Box 581, 55903.
Rochester's Oldest Home for Sale is Older Than St. Mary's
A home for sale in Rochester, Minnesota was built in 1875. It's the oldest home for sale in Rochester right now and was actually built before St. Mary's Hospital.