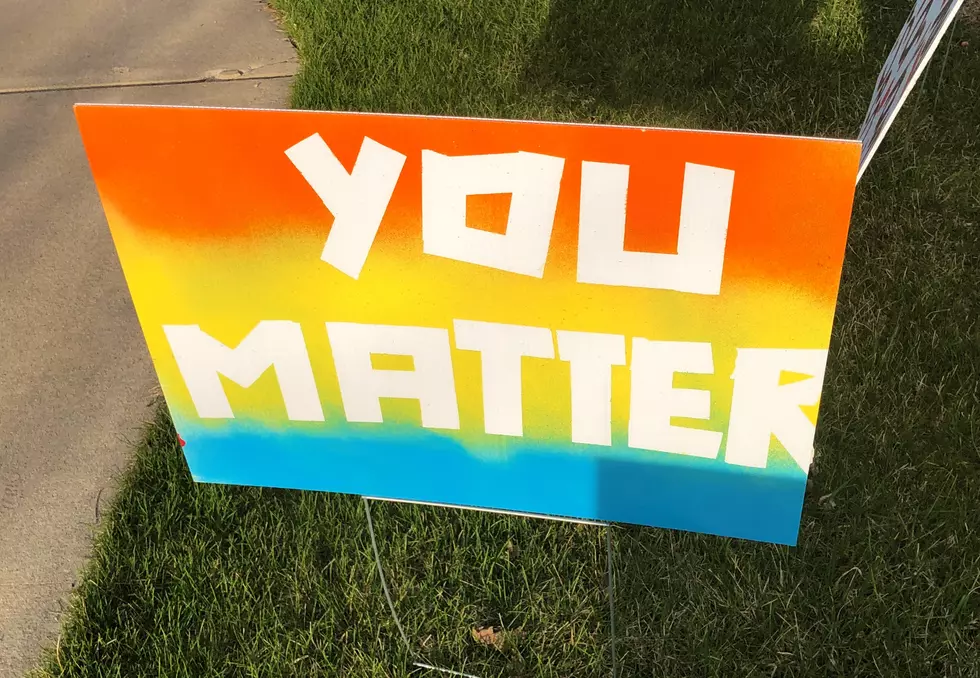 Real Talk with James Rabe – Depression Ruined My Saturday
Photo: James Rabe TSM-R
How can I be happy, upbeat, and enjoying life one day, and the next, I'm edgy, angry, and just looking for a reason to pop off, and then one more day later, feeling tip-top?
Depression.
Hi, I'm James Rabe and I deal with depression and anxiety, and this is the story of an amazing Friday followed by just about the crappiest Saturday in a long long time.
Friday the company I work for, Townsquare Media, had a corporate wide panel about Mental Health. They're cool that way. I joined three other employees and we told our stories, gave our opinion, and hopefully helped people dealing with mental health issues feel less alone. 
Because you're not alone, by the way. So, we do the panel deal, I get a TON of support from Townsquare Media Rochester people (my co-workers watched the webcast? WHAT? That feels pretty good.).  I also heard from a bunch of people in the company I didn't know, each sharing just a slice of their story.
I felt very good about what we did on Friday. I'm not afraid to say it...I was proud. Proud of the company, proud of the organizers, and especially proud of my coworkers around the country that have never stepped in front of a microphone to tell their story. I. Felt. Great.
Then I Woke Up Saturday
Saturday was the crap day I mentioned above. When I feel that way, I say I'm feeling "anti." Anti what? Easier to ask not-anti-what? But I've been in mental health recovery for a while. I know the drill. So I do the things that usually help me (like exercises to help my brain see things are actually totally cool).
Nope. It wasn't getting better. So, I took a walk. Remember Saturday? Yeah. Rochester, Minnesota, was hot and humid. I was ticked off the second I walked outside. I walked in silence and started sweating from my...everything.
Back inside I was feeling all kindsa guilt, shame, disappointment, anger, great for a date night, right?
Date Night Made It All Better, Right?
Had a date with my girlfriend Diana (lives outside Fairmont, about two hours from Rochester). It was a movie-date; she had the VHS version of A Walk to Remember and bought the DVD for me to watch. Remember that movie title.
I let her know the place I'm in (if you're in a relationship, please communicate your feelings!), and she's awesome so she knew the movie might trigger me into anger or whatever and I may need to ditch it.
Have you seen the movie? Right off the bat people are acting totally mean to each other and when I'm in the bad place, that stuff sets me off. So we stopped the movie. We prayed. Diana shared Scripture. She was a wonderful and supportive partner.
She knows it's not her job to fix me, or dance and be silly so I'll be happy. She knows it's a real thing and sometimes I'm just going to have crappy days. So she made a joke before we signed off and i went to bed for the night.
"Are you sure you're not just trying to get out of watching a chick-flick?"
The Next Day
Waking up Sunday, I felt clear headed, reasonable, and ready to be up and doing with a heart for any fate. No lingering guilt, shame, anger. Because sometimes, depression and anxiety are like that. They don't make sense.
But something that does make sense? There's a whole world out there set up to help people with mental health problems. It's just waiting for you to ask for help, which I know can be wildly difficult. You don't know about that world maybe because no one's shown it to you. Well, I want to do that right now.
If you click here, you'll see a ton of resources in Southeastern Minnesota and more. I've used Family Service Rochester and can recommend them personally. The others are also very good, I just haven't used their services.
Or, just text 741-741. That's the number to get help without having to talk to people.
Please reach out for help...the road to recovery is not always easy, but it is a road on which you can move forward and see the light getting brighter.
As always, if you have a comment, complaint, or concern about something I wrote here, please let me know: james.rabe@townsquaremedia.com
Listen to James Rabe and Jessica Williams 6a to 10a on Y-105 FM's Early Morning Show.
If you need a laugh right now, these should do it...
LOL: Super Clean Jokes You Can Tell For a Guaranteed Laugh