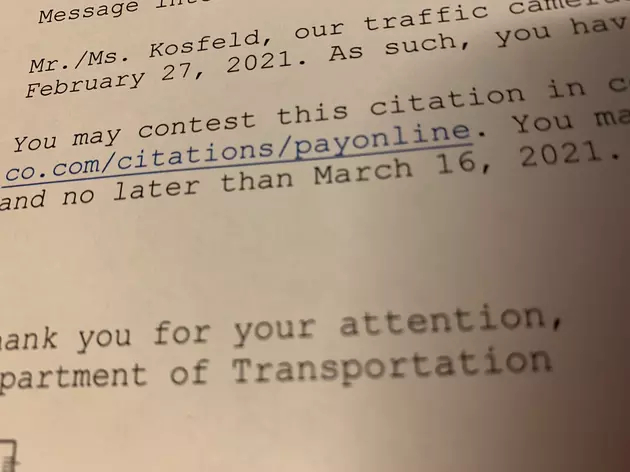 Scam Alert: Department of Transportation Email
Email Scam Alert. Photo by Gordy Kosfeld
The letter stated the message was for me:
"Mr./Ms. Kosfeld, our traffic cameras recorded you running a red light on February 27, 2021.  As such, you have been charged with a traffic citation."
It goes on to say, "You may contest this citation in court, or pay the fine online at gov-co.com/citations/payonline.  You may do so no sooner than March 12, 2021, and no later than March 16, 2021"
The remainder of the message is simply,
"Thank you for your attention,
Department of Transportation"
I phoned Rice County Sheriff Troy Dunn after the Rice County Board of Commissioners meeting was over to make doubly sure my suspicions were correct.
Dunn said, "Gordy that's a scam.  Scam number 185 for the year.  That's definitely a scam.  The Department of Transportation in Minnesota definitely does not use their cameras for enforcement purposes.  I know it's been talked about in the past but it's not happened. In the state of Iowa they do have that and do mail tickets out and things like that."
I pointed out scammers would not do this if it was not profitable for them.  He replied, "Absolutely, Even the one that's been going on for years.  The social security scam or your grandaughter, or son or daughter have been arrested in another state and need bail money. Those things just keep going on and more people are saying no to it but obviously there's still people falling for it because they're still doing it and we're still getting calls from time to time of fraud such as this."
Dunn added, "It's good to be alert.  If you're ever questioning it call your local law enforcement and find out what's happening."
Is your job on this list?
Beware of These 50 Jobs That Might Vanish in the Next 50 Years