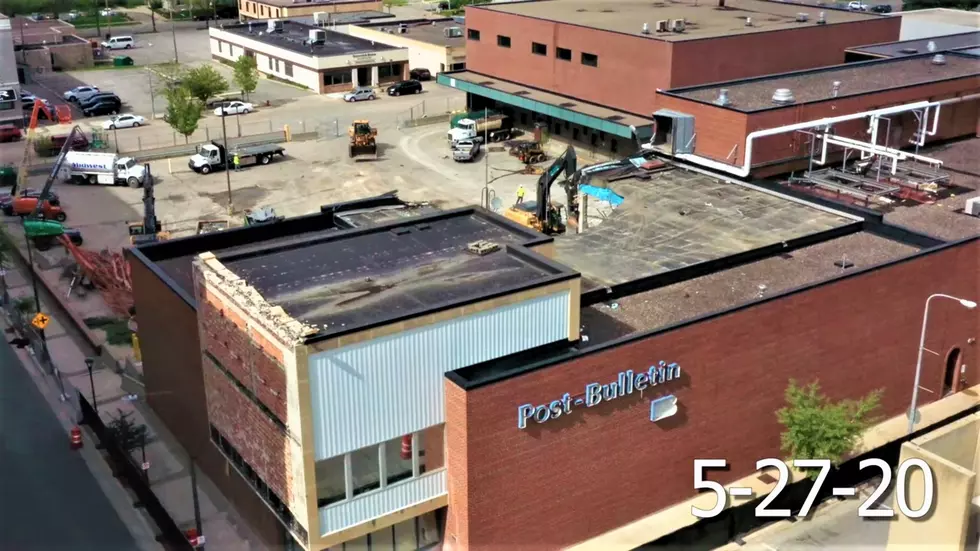 See the Rochester Post Bulletin Demolition from the Sky
PB DEMO - Screenshot from video by bing rr
Enter your number to get our free mobile app
The demolition of the Rochester Post Bulletin began last may, but it was just recently a local photographer released drone footage taken during the demolition of this more than 50 year old Downtown Rochester building.
The original Post Bulletin building was constructed on the southwest corner of the property in the early 1950's and remodeled and added onto in 1969 and 1988 and 2003. The newspaper operation was purchased by Forum Communications in 2017. The purchase did not include the property, which was sold last year. (Read More: Former Post Bulletin Building To Be Demolished This Week)
Some demos seem to go really fast, but as you watch the video, you'll see this one is a bit different than many demolitions. A lot of time is taken to separate the thisses and the thats...the stuff that can be reused from the stuff that has to go to a landfill.
The video has some really cool shots, enjoy.
Listen to James Rabe and Jessica Williams Weekday from 6 - 10 AM on Y-105 FM
Ho Ho Ho: Christmas Lights in Owatonna's Central Park