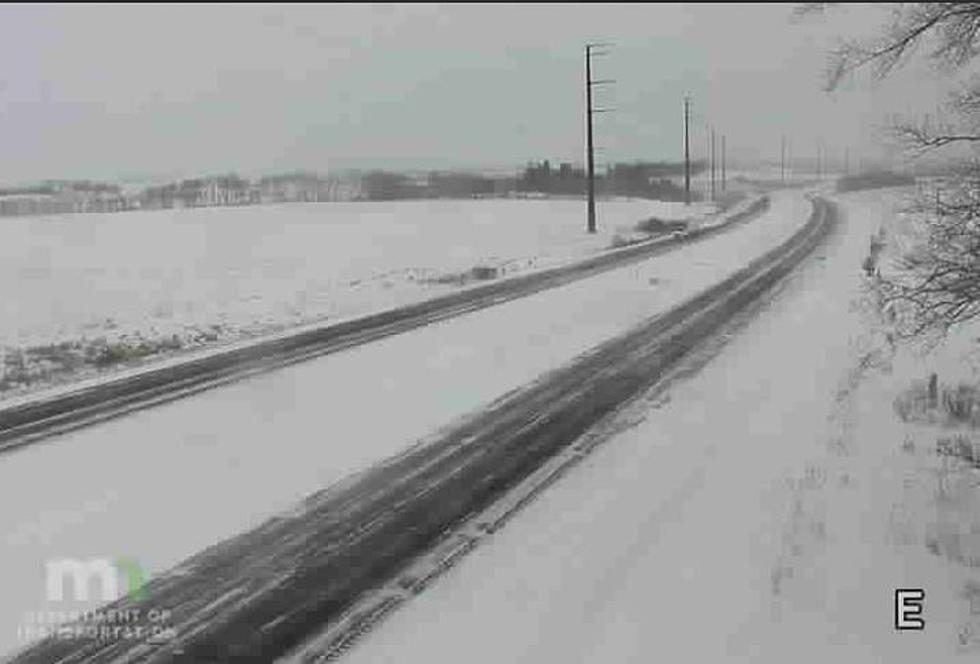 Snow Ending But Road Conditions Remain Challenging
Minnesota Department of Transportation photo
Rochester, MN (KROC-AM News) -The snowfall totals in the Rochester area have been mainly in the 1-2 inch range, but the icy mix that preceded the snow has left roads throughout the region in bad shape.
As of midafternoon, the Minnesota Department of Transportation is still describing sections of Highway 52, Highway 63, and I-90 as completely snow and ice-covered. All of the other major highways in the region are currently rated as partially covered by snow and ice.
The slick conditions contributed to numerous crashes in this region and other parts of Minnesota, including a pile-up on I-35 just north of Faribault that involved multiple semi-trucks and forced the State Patrol to shut down the northbound lanes of the freeway for more than 4 hours. MnDOT announced a single lane had been opened on northbound I-35 around 1:50 PM. Luckily, the crash resulted in only minor injures.
It appears the freezing precipitation that started yesterday contributed to a fatal crash in Freeborn County. The State Patrol says 62-year-old Bradley Oachs died from his injuries after the semi-truck he was driving crashed into another semi-truck that had jackknifed on I-35 near Clarks Grove around 6 PM.
As forecast, the brunt of the storm is being felt in central and northeastern Minnesota with residents along the North Shore of Lake Superior getting the worst. The most recent snowfall total reported in Duluth was 19 inches and snow was forecast to continue falling until late tonight. The National Weather Service has also received a report of nearly 20 inches of accumulation in McGrath, which is located just east of Mille Lacs Lake and there is a report of 17 inches of snow in the far west-central Minnesota town of Nashua.
Reports of 10 or more inches of snow are common across central Minnesota, while the totals in the Twin Cities area have been in the 4-6 inch range.
Top 10 Sledding Hills Near Rochester, Minnesota
Rochester, Minnesota has a bunch of great sledding spots that are perfect for an afternoon of
winter
enjoyment. If you've been on the hunt for a great hill, check out these 10 spots around Rochester that our listeners say are their #1 pick for a fun afternoon!