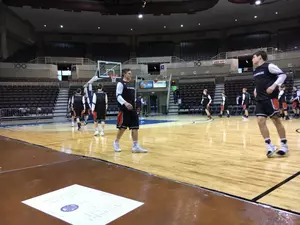 St. Charles Win Overtime Thriller Against Plainview-Elgin-Millville
Luke Lonien / TSM Rochester
Trailing by nine with 9:10 to play didn't phase the Saints of St. Charles. They went on a 14-5 run, tying the game at 47 to send the game into overtime. St. Charles got a couple big buckets from Keagan Maloney to secure the 63-59 victory at the Mayo Civic Arena on Cool 104!
P-E-M led for a majority of the second half, getting some key contributions from Griffin Doughty (14 points) and Gavin Folkert (15 points). Both players played big rolls in keeping the lead in the hands of the Bulldogs, but the Saints were able to claw their way back into the game.
St. Charles jumped out to a 9-8 lead early in the game, but the Bulldogs took a commanding lead in the first half. With the game tied at 19, the Bulldogs ended the game on a 10-6 run to take a 29-25 lead into the break. The Saints were able to get a bucket late in the half to cut the lead down to four.
The Bulldogs continued to build their lead in the second half, getting some great play from Barron Holtz (10 points) He was attacking the rim, playing great defense on Kaden Vaughn, one of the best shooters on the Saints team, and did a majority of the ball handling.
The Saints then went on their 14-5 run, getting key buckets from Drew Leistikow who carried the offense for a while in the second half. Trailing 47-44, the Saints got a three from Justin Ruhberg hit a three to tie things up at 47 and send the game into OT.
The Saints continued their stellar play in the overtime, getting great contribution fro Maloney, who hit a three and connected on multiple free throws to secure the victory for the Saints, which just happened to be Head Coach Terry Knothe's 500th career victory.
This was an incredibly entertaining game, and both teams left everything on the floor. The Bulldogs played great throughout the game, but the Saints just hit more shots late in the game to get the win, who move on to play Lake City on Saturday at 2pm at the Mayo Civic Center in the Boys Section 1AA Semifinals
KVGO Subway Player of the Game (St. Charles) - Drew Leistikow
KVGO Subway Player of the Game (P-E-M) - Barron Holtz
Kingsley Mercantile Game Ball - Keagan Maloney (St. Charles)