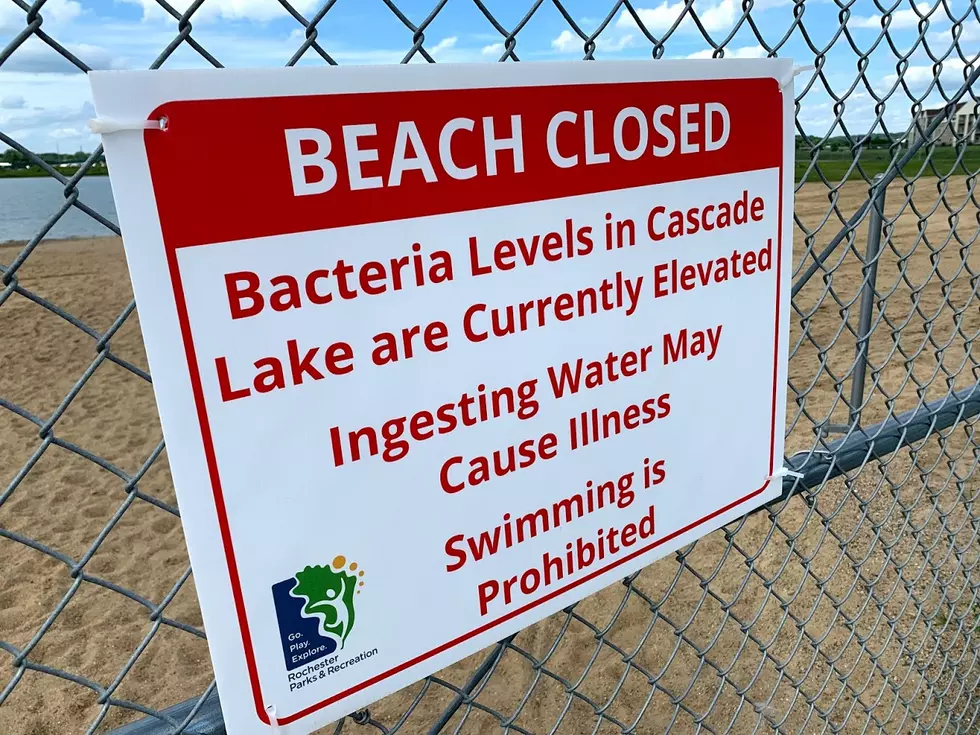 The Real Reason the Beach is Closed at Rochester's Cascade Lake
CSJ/TSM-Rochester
Enter your number to get our mobile branded app
Sure, e-coli bacteria might be at an unsafe level, but is that really the reason the Cascade Lake Beach is temporarily closed?
Over the weekend, signs went up on the fence at Cascade Lake in Rochester-- one of the only places you can swim in the Med City this year, because both Silver Lake and Soldiers Field Pools are closed-- that said swimming was 'not recommended' due to elevated levels of bacteria in the water.
Apparently there are several factors at play that make Cascade Lake susceptible to increased levels of bacteria, according to the Rochester Parks and Rec Department: Excessive rainfall, extreme heat in shallow bodies of water, which Cascade Lake is relatively shallow, and wildlife can all be common causes for bacteria levels to increase, they noted in a release.
And, when they tested the water earlier this week, the levels of e-coli bacteria were even HIGHER than they were late last week. Which is what lead to the beach being locked up and a sign posted Wednesday that said 'Swimming Is Prohibited.'
So, yeah, that's a pretty solid reason to shut it down right there, isn't it? But perhaps there's another reason. If you look closely at the sign that was posted over the weekend, it said the swimming wasn't recommended because 'Injesting (sic) Water May Cause Illness.' That's right, they spelled misspelled 'ingest'-- using a 'j' when the actual spelling calls for a 'g.'
But on the new sign that says swimming is prohibited, it correctly notes that 'Ingesting Water May Cause Illness,' correcting that earlier typo (though on both signs, every letter in each sentence is capitalized, which is a little odd, but whatever.) While I'm guessing that's NOT the actual reason the beach is closed, I'm betting whoever made the typo in the first sign is glad they had to replace it! 😉
KEEP LOOKING: See Inside Jason Aldean's Spectacular Beach House Mansion: