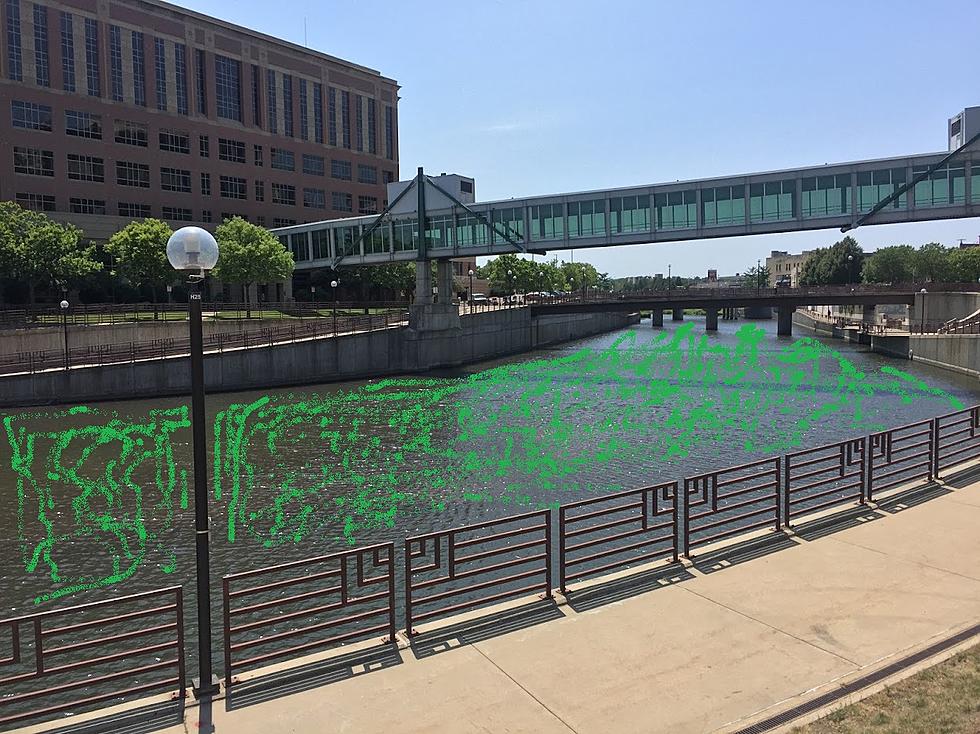 Here's How to Make St. Patrick's Day in Rochester the Most Festive Ever
A (very poor) artist's rendering of the Zumbro River, if it were dyed green for St. Patrick's Day (Curt St John/Townsquare Media Rochester-Preston)
It's probably too late to do this year, but here's something Rah-Rah-Rochester should do to help celebrate Minnesota's Irish heritage for St. Patrick's Day. Know what it is?
If your travels throughout southeast Minnesota have taken you near the mighty Zumbro River in downtown Rochester, did you notice how festive it looks, already decked out in green to celebrate St. Patrick's Day on Thursday (3/17)?
Well, probably not, because the Zumbro isn't dyed green– there won't be any nautical nods to the 'Luck 'o the Irish' as it winds through the Med City again this year.
And while there are St. Patrick's Day celebrations planned at various Rochester establishments (including the Rochester Caledonian Pipe Band making its appearances around the area-- check the schedule below!) Saint Paul is probably the closest Minnesota city to us that really goes all out in celebration of St. Patrick's Day.
And while Saint Paul does put on some pretty impressive St. Patricks Day parties-- many of which are happening for the first time in two years, thanks to the pandemic-- nobody there dyes the Mississippi River green. (At least that I'm aware of.) Wouldn't it be cool, though, to see Rochester's own main waterway dyed a festive shade of green for a few days around St. Patrick's Day every March?
But some cities really DO dye their rivers green for St. Patrick's Day, according to USA Today. In Chicago, for example, they started dyeing the Chicago River green last weekend to get ready for this week's big doings — a practice that has been around for nearly 60 years now!
So how do you turn an entire river... green? Well, the article says, "The city turns the river green by dumping roughly 40 pounds of a secret formula powder into the river, Tom Rowan, the head of the river crew told The Chicago Tribune. Boats help churn the water, which mixes the environmentally-friendly powder, into the river turning it a maximum green in about 45 minutes."
As for us here in the Med City, we'll just have to use our imagination if we want to visualize the Zumbro River in various hues of green. Of course, depending on how much celebrating you do on St. Patrick's Day, that task might not be all that tough to do…
Listen to Curt St. John in the Morning
Weekdays from 6 to 10 a.m. on Quick Country 96.5
Rochester Caledonia Bagpipe St Patrick's Day Pub Crawl Schedule
St Patrick's Day festivities will feel normal again in 2022 with the return of the bagpipers. The Rochester Caledonia Bagpipers will be making 12 appearances at different establishments around Rochester, Minnesota. This is the first time the pub crawl has happened since 2019.