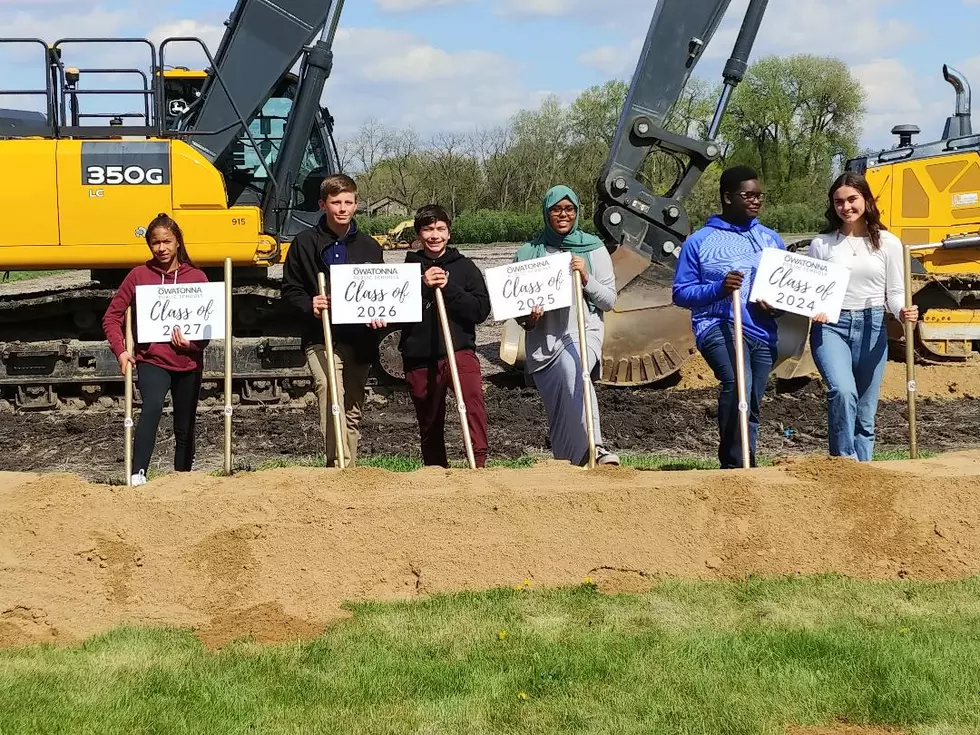 First Dirt Moved for New Owatonna High School
Roy Koenig/TSM
Future graduates of the new Owatonna High School helped moved some dirt during the official groundbreaking for the new campus Thursday afternoon. Teachers who will walk the halls and district residents who will attend fine arts events and athletic contests were also present. School district representatives addressed the big crowd. Owatonna Area Chamber of Commerce Ambassadors and local politicians grabbed gold shovels while smiling for the cameras.
Jeff Elstad opened the program, "I'm a very, very proud superintendent everyday, but I'm even more proud today as your superintendent to be at this great event...This is not only a project that will enhance the future for our students, but will also make Owatonna a better place to work and live."
Elstad gave special mention to corporate sponsors Federated Mutual Insurance Company, Wenger Fourndation and Wenger Corporation, Viracon, Gopher Sport, Cybex/Lifefitness and Mayo Clinic Health System. He also thanked the ISD 761 Foundation and Owatonna Foundation for their donation that added a community room, plus contractors Wold and Kraus-Anderson, and Director of Facilities, Safety and Infrastructure Bob Olson.
In crediting planning committees and others, Elstad stated their work has "created a high school building and a campus that truly will reflect Owatonna pride and the stories history of this community while keeping a real keen eye on the future of where Owatonna is headed."
School board president Mark Sebring said, "Friends this is a great day. This is just a fantastic day...I'm an Owatonna guy. I'm Owatonna proud. And I can't thank Owatonna enough...The many hours for the folks that did the planning...The future is bright for many, many generations for students and educators in Owatonna." Sebring thanked the Rypka family whose land will hold the new campus.
High school principal Kory Kath remarked, "I stand here this afternoon as a very proud principal. My pride stems from the incredible work that I see each and every day from our staff and our students that are dedicated to learning." Kath punctuated his message of how the new facility will work for students and community members with "...We see your future, and your future is right here."
LOOK: Inside Minnesota's Massive Governor's Manison
Enter your number to get our free mobile app
Owatonna Young Life Cake Auction 2021
KEEP READING: 10 Must-Have Items For Minnesota Kids That are Distance Learning