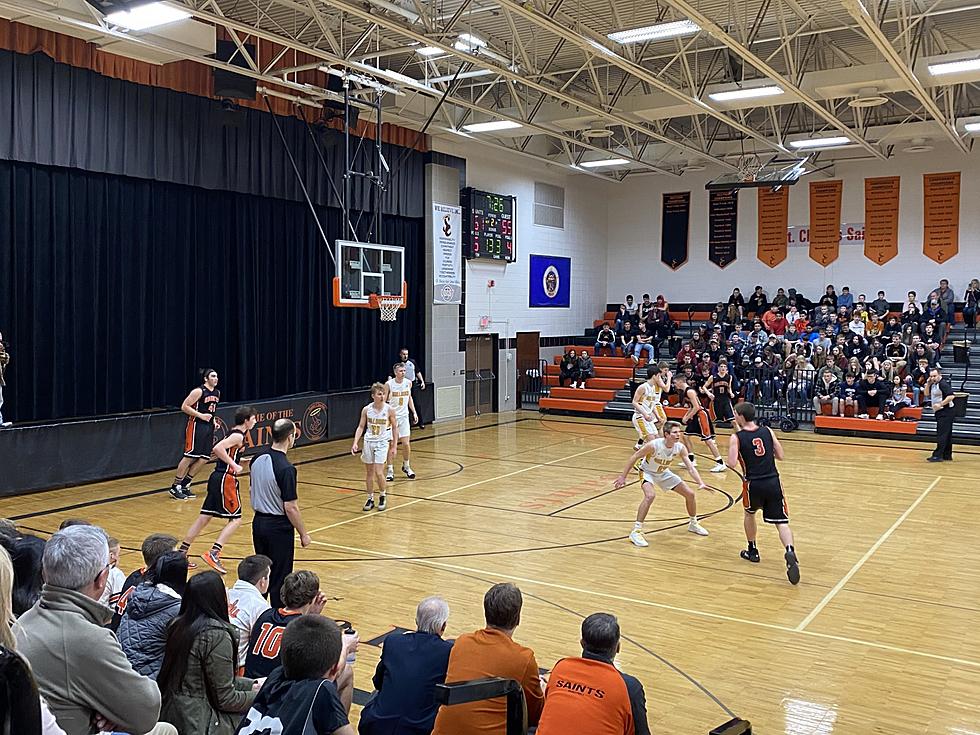 St. Charles Sinks PEM At The Buzzer
LL/TSM Roch
Chase Walters worked his way up the right side of the floor, attacked to the top of the key, pump-faked then released. Nothing but net.
Walters connection from 3 at the buzzer led the St. Charles Saints past the Plainview-Elgin-Millville Bulldogs 75-72 Friday night in St. Charles. The win earned the Saints at least a share of the Three Rivers Conference West title, along with a two-game lead with two games to play.
It was a physical game with both teams fighting through contact as players attacked the rim and did everything they could to give their team the win.
The Saints were scorching out of the gate, jumping out an 8-2 lead, but the Bulldogs eventually found their footing to close the gap. St. Charles then got some great play from Kooper Vaughn in the first half that helped them take a 40-29 lead into the half.
PEM wasn't going to go away quietly, and the Saints knew that. St. Charles came out aggressive and pushed the lead to 44-29. Then, the Bulldogs made their run.
A 21-2 run gave PEM their first lead of the game at 48-46 after a Luke Stevens 3 with 12 minutes to go. The teams continued to trade buckets until the Saints were eventually able to regain the lead.
With the game tied at 66, the Saints were able to get a make from Walters, who had 24 to lead the Saints, to get a 68-66 lead with 90 seconds to go. The Saints then went to the free-throw line but couldn't cash in enough times to grow their lead.
PEM took advantage, getting a 3 from Blake Herber to close the lead down to 72-70. Two more misses at the stripe for St. Charles then a foul sent Gunner Ramthun to the line where he hit both free throws to tie it at 72 with just six seconds to go.
The senior was aggressive in the second half that saw the Saints play without Vaughn, who left the game with an injury. Walter took the ball in the backcourt, battled to the top of the key and hit the game-winner at the buzzer to earn the Saints the 75-72 win.
Walters led the way with 24, while Vaughn added in 22. Blake Herber led PEM with 23 points while Ramthun had 14 and Jordan Zabel added 13.
The Saints moved to 16-7 with the win while PEM fell to 16-8. It was a great atmosphere with two really good basketball teams battling it out.
Kingsley Mercantile Game Ball - Chase Walters (St. Charles)
Enter your number to get our free mobile app